Sometimes unplanned activities work out the best. As I was paying for petrol I noticed that a bunch of sunflowers were reduced to £1. Adam has never explored flowers within his sensory play so I set up a quick activity for him.
(This post contains affiliate links)
I put five sunflowers into our 33 Litre Really Useful Box
 which was placed on top of our blue Tuff Spot
. I let Adam take the lead with his play and he created Sunflower Sensory Soup!
First Adam explored the smell and the texture of the sunflowers. He discovered he could pull the petals off individually. This lead to a great fine motor skill activity as well as counting over 100 petals!
Once he had taken the petals off of two sunflowers, Adam disappeared into the bathroom and returned with a container of water. He poured the water into the box and asked for more water. I asked if he would like coloured water and he chose yellow. I added yellow Wilton food colouring
 to a bucket of water and poured it into the storage box. Unfortunately the blue Tuff Spot underneath made the water look more green than yellow!
I gave Adam a variety of kitchen utensils and he used them to stir the sunflower petals around the sensory bin. He discovered the metal spoon could be used to scoop out the sunflower petals and attempted to pick them out individually.
Adam used the whisk to try and make bubbles in the yellow water. He even attempted to get the sunflower heads to sink by spooning water on top of them.
I had forgotten how much fun it was to watch Adam completely direct the play activity. It was also the first time Adam has played with sensory soup. He enjoyed it immensely so I can see more sensory soup activities coming soon.
Equipment:
* 33 Litre Really Useful Box
* Blue Tuff Spot
 (optional)
* Yellow Wilton food colouring
* Kitchen utensils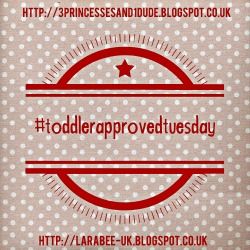 You May Also Like: